DA:


Drawing


Photographying


I had 2 digital camera's from Olympus. My last one was an Olympus FE3010. But since jan.27th 2010 I bought a Sony Alpha 230 double zoom lens kit!


users can also watch me on my page! www.facebook.com/pages/SPhotog…



Singing


I also love singing. I think singing might be kind of art as well! So you can visit my you tube anytime!

www.youtube.com/user/xXSofietj…

Status


single


in a relationship -cohabitating-

married


Mentally dating a character that doesn't actually exist!!



RLFriends:




SOME FACTS:
:thumb293539440:
:thumb109868418:
:thumb200723501:


other random facts:



I own a French Bulldog

, 2 chinchilla's , 3 bearded dragons, 2 leopard gecko's and 1 betta fish!


I work at an animal center.


My fav colors are pink, blue, black..


I like lots of musics but prefers dubstep, trance, 90's, movie soundtracks.


I m totaly mad in love with my bf, he's the best thing I've ever had!


I have

but if you'd like to add me, just tell me!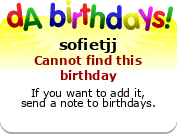 Last updated:
September 18 2013